It has been our pleasure over the last few weeks to present to you a distinguished and talented panel of judges, all bringing a wide variety of experience to Aspire. To complete our round table, it is our privilege to introduce Jodie Blackshaw and Dr Jack Stamp, the Concert Band adjudicators for 2019.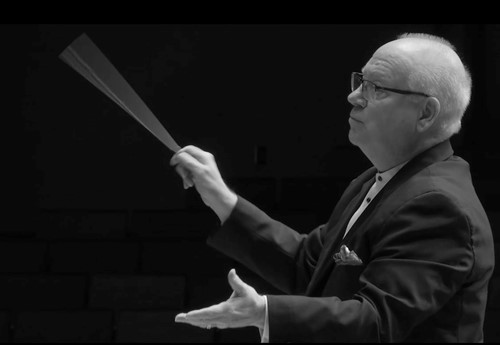 Dr Jack Stamp
Dr. Jack Stamp is an American wind conductor and composer who currently teaches conducting as adjunct Professor of Music at the University of Wisconsin – River Falls. Prior to this he held the appointment of Director of Band Studies at Indiana University of Pennsylvania for 25 years. Jack's education has been both extensive and widespread, having received his Bachelor of Science in Music Education from IUP, a Master's in Percussion Performance from East Carolina University, and a Doctor of Musical Arts in Conducting from Michigan State University.
Jack is an active guest conductor, clinician, adjudicator and composer throughout North America and Great Britain. He taught for several years in North Carolina public schools and is often engaged for commissioned compositions, particularly for leading military and university bands across the US. He was a contributing author to the "Teaching Music Through Performance in Band" series released by GIA Publications. In 2000, he was inducted into the prestigious American Bandmasters Association.
ASPIRE is very lucky to have Dr. Stamp on board, and the whole team is eager to see what concert band participants will take away from their experience.
Jodie Blackshaw
Jodie grew up in the south-east of rural Australia and formed a very personal relationship with music early in life. She completed a Bachelor of Music in Composition with Professor Larry Sitsky at the Australian National University and in 2019 will complete her PhD in Composition with a portfolio of works exclusively written for the wind band genus. She is also currently pursuing a Doctorate in Musical Arts in Composition at the Sydney Conservatorium of Music.
Jodie spent nine years as a classroom music teacher, teaching clarinet, saxophone and keyboard to a wide range of students from varying backgrounds. She is passionate about inspiring teachers and musicians to be active in the music making process, and continues to seek creative experiences for students through her teaching, conducting and composing. In September/October 2015, she toured Canada and upper New York State, presenting her teaching approach to school/university students and conference attendees.
Jodie's dedication to inspiring young musicians, and her many years' experience as a teacher makes her the perfect fit for ASPIRE. We are very excited to have her as part of the team.