The team at ASPIRE are pleased to announce that the two adjudicators responsible for judging the orchestral sections have been selected. We are very privileged to have Victoria Jacono-Gilmovich and Marc Taddei joining the esteemed ranks of ASPIRE adjudicators, and we are all very excited to see how their unique expertise can teach and influence the young participants of ASPIRE.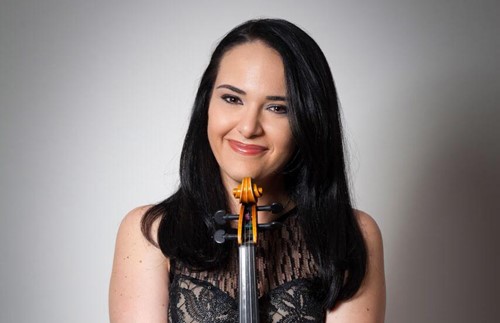 Victoria Jacono-Gilmovich
Victoria Jacono-Gilmovich is Founder and Director of the Inner West Institute of Music, a Sydney-based music school for children. Victoria coordinates ensembles and group lessons in a number of schools, as well as providing private tuition to over 250 students in her capacity at IWIM.
Victoria took up the violin at the age of six, and still finds the same joy in playing music. Her breadth of experience spans across many orchestras, including The Metropolitan Orchestra, the SBS Radio and Television Orchestra, the Young Symphonists Orchestra, the International Youth Orchestra in Spain, the Sydney Sinfonia Orchestra and Eminence Symphony Orchestra. She also performs with a number of music organisations in Sydney, and arranges her own performances.
ASPIRE is a perfect match for Victoria's passion for musical education, and her ongoing mission to inspire the next generation of musicians.
Marc Taddei
Conductor Marc Taddei currently works as Music Director of Orchestra Wellington in New Zealand, and of the Vallejo Symphony Orchestra in the United States. Marc thrives in these creative roles and loves to innovate and infuse his audiences with artistic energy.
Marc is a graduate of the Julliard School in New York City, after which he has enjoyed a successful international career, with 15 years of musical directorships in New Zealand. He frequently conducts for every professional New Zealand orchestra, and has worked with such institutions as the New York City Ballet, Hong Kong Philharmonic, China's Xiamen Symphony Orchestra, and the Silesian State Opera in the Czech Republic.
Marc's incredibly wide range of experience will bring something special and inspirational to ASPIRE, and he hopes that his contribution can help shape a young musician's future career.
ASPIRE is proud to have these two world-class adjudicators on board, and they are both looking forward to seeing the talent drawn in by the festival. With just under four months until the festival starts, there will be more exciting announcements coming soon!